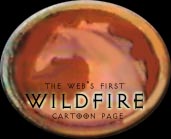 Castle Thorinia: The Wildfire Cartoon Archives
has moved to www.castlethorinia.net
Click above if not redirected.
Please update your bookmarks, and notify the webmaster if you arrived from a link on another site. Thank you!

Wildfire is c. 1986-87 Hanna Barbera/Warner Bros., and all material on
this site is used for the purpose of non-commercial fandom only.